ACHIEVE INCREASED AGILITY WITH CLOUD
Cloud computing has transformed the way businesses work. It provides a secure digital platform that accelerates innovation, scales business services, improves operations, and helps adopt a flexible and agile development model.
Align with the Customer – Just commenced on your on-premise to cloud journey or looking to containerize applications in the K8s clusters? Want to build a full-scale application on the cloud or just go full serverless? Whatever your cloud strategies, we meet you there. With more than 40 projects delivered and/or migrated to the cloud, our cloud architects and leads will ensure that all your existing or upcoming projects are well understood and analysed. They will guide you towards a development strategy that is well defined and planned. They will also make sure that the infrastructure and sizing are in place to meet the current and future needs to run the applications seamlessly on the cloud platform.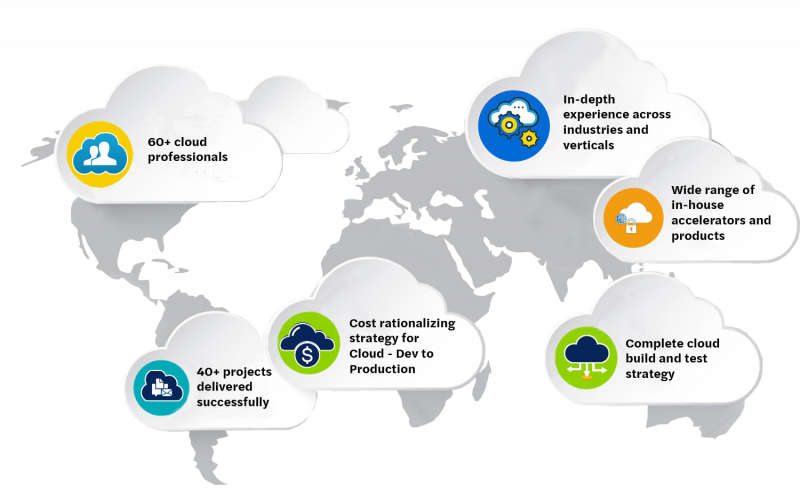 Cloud Consulting
Don't know where to start in your cloud journey?
Roadmap defining: Our cloud consultants are here to help. We start by discovering your existing landscape and analyzing the applications portfolio considering the current and future business needs. We assess the current IT infrastructure stack be it on-prem or otherwise, and blueprint what can be moved to the cloud, how, and when.
Analysis & design: Be it servers, services, communication platforms, or difficult-to-integrate third-party applications, our cloud consultants shall perform a holistic analysis of the business and technology needs. They will put together a relevant go-to-cloud roadmap that ensures you are relevant and future-ready.
Manage, Improve and Innovate
Is your OPEX cost increasing and not yielding the ROI you had planned for? TCG Digital's well-defined framework for Cloud application support that leverages the time and experience gained over the years can improve the support model. Innovative solutions like RPA monitoring, smart monitoring system implementation and automated housekeeping, and advanced actionboards/dashboards will help in the reduction of manpower and improve productivity.
The journey to the cloud is loaded with complex questions. Get TCG Digital's expert guidance from the start. We help you explore considerations and get organized upfront, understand what is, and isn't possible, and explore the ideal solution architecture. Learn how best an enterprise can migrate to the cloud and why collaboration between TCG Digital and your Cloud Consulting team will help you navigate your Go-To Cloud Journey with ease.

Discover & Analyse
Infra assessments
Security Assessments & VAPT scans
Cloud cost optimization
Architecture review & cloud stack selection
On-premise links & dependencies

Architecture & Design
Serverless vs Managed? We get you there
New to cloud? We will do the architecture heavy lifting
Containerize best practice
Cloud Design patterns
Serverless Vs Managed service Design
NFR inclusion
Validate & Optimize
Well-architected validation
Cloud vendor recommendations
Design to Code validations
Future requirements
Cost optimization

Implement
Full automation via CDK and CFN
Automated Build & Test
Performance tuning
NFRs

Manage
Responsible for server uptime, services uptime
Cloud Ops
Data Ops
Security
SLA's

Improve
Enterprise Data Lake
Chatbot
Cloud-native app engineering
Serverless solutions engineering
IoT, Data Science, Analytics & Dashboards
Automated and configurable housekeeping