Cloud Migration & Modernization
Running your business in the cloud has many benefits, such as becoming more agile, the ability to go global quickly and significant cost savings. With so much to offer, it is apparent why leading organizations are looking to leverage the benefits of cloud computing. Not only are firms migrating applications and datacenters to the cloud, they are taking advantage of leading capabilities offered by cloud providers. Business and IT users benefit in myriad ways, such as fast virtual desktops, advanced AI and machine learning analytics, automated data backup and rapid disaster recovery.

However, some organizations are hesitant to begin a cloud adoption journey due to perceived challenges and roadblocks. These first steps are made easier if a cloud migration follows well established strategies. Cloud migration and modernization should be viewed as a continuous process that requires change management spanning people, process and technology. Taking a comprehensive approach will not only help you successfully navigate the journey, but ensure that you realize the intended benefits of being more agile, having the ability to scale, and operational efficiency.


Plan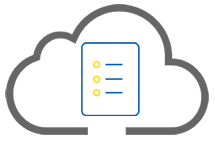 Plan
This phase should start with defining the business benefits and a migration strategy. Defining and documenting business drivers for cloud migration and modernization will clarify the reasons for migrating. The next step is to discover and assess applications, databases and infrastructure. All major cloud platforms provide automated assessment tools that help to get insights on dependencies, create application inventory and assess on-premises environment to get right-sizing guidance, workload level cost estimates and performance metrics.
Primary considerations of these assessments include:
Hardware and performance
Number of users and licensing issues
Compliance
Dependencies between applications
Also, at this stage it is advisable to categorize applications into:
Easy to migrate
Difficult to migrate
Can't migrate
Once a strategy is defined and assessment done, it makes sense to do a pilot. This would mean selecting one or two applications preferably from the "Easy to migrate" bucket and migrating them. Run these applications on the cloud for a period of time and measure performance and other key metrics. There should be a rollback plan in place in case anything goes wrong.
Implement
Operate