In conversation with His Excellency, Abdullah bin Mohammed Salimi
By Debdas Sen, the CEO of TCG Digital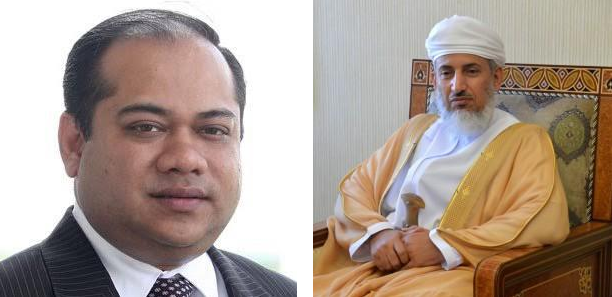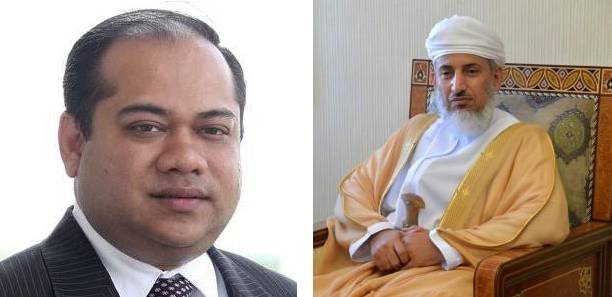 During my visit to the Sultanate of Oman, I had the privilege and honor of meeting His Excellency, Abdullah Al Salimi, the Minister of Awqaf and Religious Affairs for the last 22 years. We had plans of discussing future trends in technology.
Just as many others, I was carrying a standard presentation on emerging technologies. I was somehow hesitant to present this. I felt it was too technical in nature for the discussion with His Excellency. However, after some thought, I decided to go ahead.
While I was making mental notes of what to present, we were escorted to a grand room in the ministry where we caught up over Omani tea (which tastes like Turkish tea and is served in small cups, similar to Japanese crockery). After the pleasantries got over, the discussion took off on a friendly note and soon technology was what we got engrossed with. To my pleasant surprise, the Honorable Minister was well-versed with the latest trends in technology. It was an intriguing discussion where we discussed important tech trends which would drive disruption in 2019. Here is a snapshot of these trends:
Citizen AI
Let's begin with citizen artificial intelligence (AI). In our younger years, a particular steel company ran a popular advertisement which read "there is a little bit of steel in everything." Today, AI is the new steel. It touches every aspect of our lives. Be it large scale manufacturing, stock markets, the local mom and pop store, our morning jog, the teeing off at a golf course, and even in our bedrooms where it controls the mood lighting. AI is getting more democratized than ever. At TCG Digital our advanced analytics platform— tcg mcube provides a self-service plug and play feature to citizen data scientists. Once the advanced algorithms detect schemas, profiles, and catalogs they determine the data lineage and recommend enhancements. Actionable insights are narrated in the natural language (a subset of AI) which the users can easily comprehend. Through algorithms which find relevant patterns, auto-generated visualizations, and codes, and natural language, AI empowers the citizen data scientists.
IoT
Next, if we consider IoT, by 2021, 10% of new vehicles will have autonomous driving capabilities as compared to less than 1% in 2017. With IoT, smart cities have become a reality. Technology is combined with people-centered urban design to achieve higher levels of affordability, sustainability, mobility, and economic opportunities. If we delve into what makes smart cities different we need to take into account a mobility system which is safer and more convenient than private cars. As a smart city initiative, Seoul has already installed 50,000 IoT sensors for real-time parking which allows drivers to check whether parking is available. A Taxi Service has been launched that connects the passenger and the driver and helps them predict the demand for taxis in real-time through artificial intelligence.
Additionally, our IoT Facility Management project which runs on tcg mcube finds use in the mosques under Ministry of Awqaf, in Oman. It helps in automatic control of time, temperature, luminosity, and population. It is a good example of conditional automation which is individually dynamic and smart in nature.
Immersive Technology
If we consider augmented reality (AR) and (VR), immersive technology which is the combination of AR and VR and mixed reality is fast transforming the user experience in the digital world. This exciting innovation with many benefits is already being leveraged across industries. It has been predicted that by 2022, 70% of enterprises will already be experimenting with immersive technologies for both consumer and enterprise use and almost 25% will have deployed it for production. Interestingly, ImmersiveTouch, the most advanced and forward-looking virtual reality start-up in Chicago has already significantly improved the efficacy of brain surgery training.
Gamification
Another technology which we discussed was gamification. It is the application of game design elements in non-game contexts. It often finds use as an online marketing activity to encourage engagement with a product or service. Interestingly, the global gamification is expected to grow at a CAGR of 32% to reach $40 billion by 2024 which stood at $6.8 billion in 2018. It is increasingly being used by governments to promote civic engagement and nudge the residents towards healthy behavior.
Integrated Cognition
An important technology which cropped up during our discussion is integrated cognition. Integrated cognition assesses existing and proposed systems in progress helping users realize their cognitive capabilities. While we discussed cognitive abilities, our focus shifted to edge computing. Edge computing brings cloud resources closer to applications, devices, and users. "Empowered" edge as the name suggests is all about empowering computing centralization which is distributed towards the edge of a network, towards the end-user device and the end-user. It has emerged as a key concept in device management in this big data and cloud age where digital technology only enhances cognition.
Digital Twins
We realized that our discussion would remain incomplete without sharing our thoughts on Digital Twins with each other. Almost 24% of enterprises who implement IoT projects are using Digital Twins. Delving deeper into the concept, Digital Twin is a dynamic software model of an organization that relies on operational or other data to understand the state, respond to changes, make improvements in operations and add greater value. It often finds use in maintenance and reliability, asset optimization, monetization of models and research and development. At TCG Digital we are in the process of creating a digital twin of a Petrochemical Complex.
Blockchain
After discussing the above tech trends we could not leave out Blockchain. It has been predicted that Blockchain will create $3.1 trillion worth business value by 2030. In the last few years, Blockchain has been gaining higher traction for its ability to efficiently secure transactions and data. The decentralized system is one big advantage where one does not require permission to access or use the network. One interesting example of Blockchain being used is TradeLens' use case. TradeLens, the Blockchain-enabled digital shipping platform continues to expand with two new additions Hapag-Liyod and Ocean Network Express who have decided to collaborate.
Quantum Computing
Another interesting tech innovation which cropped up during our discussion is quantum computing. It has been predicted that by 2023, 20% of organizations will be budgeting for quantum computing projects compared to less than 1% today. Quantum computers replace the traditional bits by quantum bits or qubits helping achieve vast computing power. They help solve computing challenges which are beyond the scope of today's supercomputers. Two computing phenomena which are embraced are superposition and entanglement. Somehow, we did not delve into the two aspects as both of us were aware of how they were contributed to the quantum model.
Automation to AI continuum
After a tea-break, we thought it would be a good idea to wrap up our discussion with the journey from automation to AI continuum. From process automation where robotics processes contribute to efficiency gains through automation, we move to data integration where large amounts of data from internal and external systems are integrated into one platform. This is followed by descriptive and diagnostic analysis where we find answers to what has happened and why. We use visual and graphical analyses to decipher aggregated as well as detailed data. What follows next is predictive and prescriptive analysis where advanced analytics techniques crunch huge amounts of big data for accurate prediction and decision making. The last and final component in the ladder is cognitive analytics which includes machine learning, artificial intelligence, and deep learning. These advanced computational techniques mimic the human brain and offer self-learning techniques.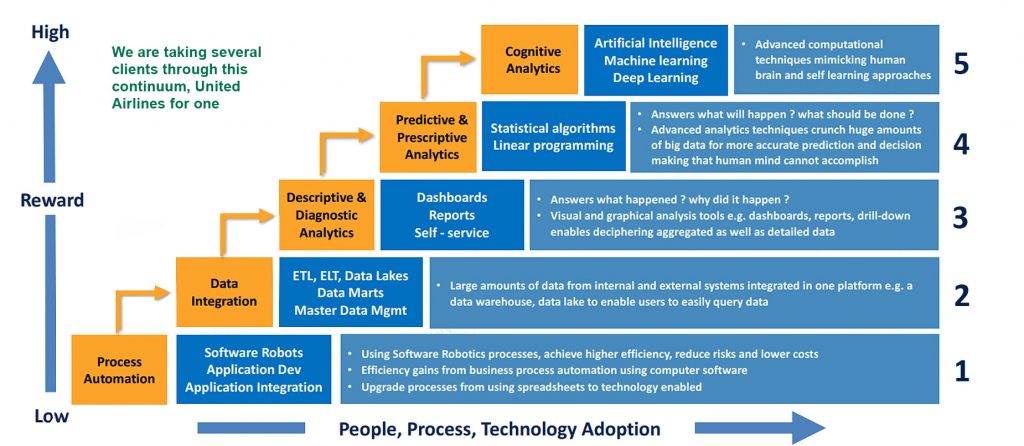 Towards the end of the discussion, we decided to share instances from our fields of work. We understood that there is a point where science meets faith— the confluence of technology and religion. We cannot allow each of them to exist in silos. Technology has already found use in religion and will soon play an instrumental role in how we embrace religion.
My Final Thoughts
Honestly, I was taken in awe by the Honorable Minister's knowledge on technology and was pleasantly surprised to witness his openness to embrace science for the development of humanity. His vision left me impressed. The scorching summer heat of the Middle East did not matter much as his veil of knowledge left me baffled. Satisfied and satiated after an intriguing session we walked towards my friend, Kias' car. It was a day well-spent where the meeting and knowledge-sharing session is one I will remember for long.