Build the Digital Aviation Enterprise of Tomorrow
Digital aviation

enterprise
TCG Digital (formerly known as SkyTECH) is the flagship IT company of The Chatterjee Group (TCG). We have been razor-focused on the aviation industry since 1999. In fact, we had skin in the game through the turbulent times, as well as the boom times. Recently, low fuel prices, industry consolidation, and robust demand have given the airlines surging profits and some of their best performance years.
Airlines and Airports have been looking beyond traditional revenue models. Their focus is on ancillary revenues and retail to contribute to their growth and expansion. One factor that is indisputable and drives revenue and profits is knowing the customer better. Customer awareness allows  for better service, and customers want choices. TCG Digital has invested heavily in digital technologies to engage that customer, and to identify and to serve that customer's needs.  
TCG Digital fully understands the challenges, concerns, and risks of the aviation industry. For over 19 years, we have helped our aviation clients succeed in this business. We are proud to have assisted the world's largest airlines, the world's second busiest airport, and other industry titans. We are also proud of the assistance we have given start-ups and mid-sized clients. In part, our success comes because we bring together, across business functions, subject matter experts and technology practitioners who complement each other. We are able to deliver business value with surgical perfection.
In recent times, digital transformations are driving market share and differentiation within the aviation industry. As thought leaders in this space, we combine our deep aviation domain knowledge with investments in building expertise in modern age digital technologies. We are involved heavily in Big Data; Social Media Analytics; mobility; m-commerce; SOA/enterprise application integration; and cloud computing. These are our building blocks to help build the digital aviation enterprise of tomorrow.
Our deep domain experience is across the following aviation functions and sub-functions: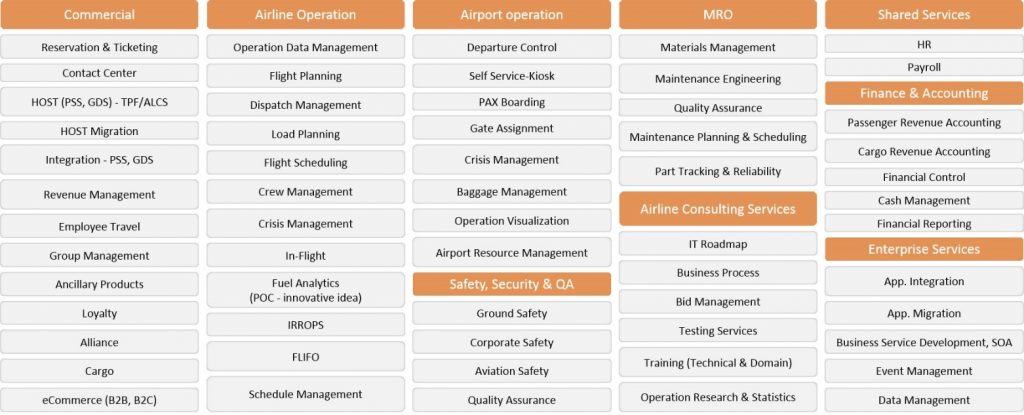 Let us help you Build the Digital Aviation Enterprise of Tomorrow